Upcoming Events
Mississippi Revival Partnership
April 2-5, 2017
Please pray for the participating churches and their visiting Evangelists. Please attend a revival near you. Invite unsaved folks to attend with you. You can contact the participating churches for service times. The churches participating in this simultaneous effort are as follows:
Cornersburg Baptist Church
3898 Tippecanoe Rd.
Youngstown, Ohio 44511
Phone (330) 799-2833
Dr. Randy Langham, Pastor
Rev. Mack Carney, Evangelist
Shenango Valley Baptist Church
40 S. Neshannock Rd.
Hermitage PA 16148
Phone (724) 981-1943
Rev. Phil Cooper, Pastor
Rev. Tony Volking, Evangelist
FBC Newton Falls
2640 S. Canal St. Ext,
Newton Falls, Ohio 44444
Phone (330) 872-7055
Rev. Steve Spurlock, Pastor
Rev. Ray Spence, Evangelist
New Hope Baptist Church
9809 E. Center St.
Windham, Ohio 44601
Phone (330) 326-3777
Rev. Richard Hose, Pastor
Rev. Troy Donahoe, Evangelist
Solid Rock Community Church
1780 St. Rt. 344,
Salem Ohio 44460
Phone (330) 332-0990
Rev. Joe Sheeley, Pastor
Rev. Leonard Walters, Evangelist
Walk through the Old Testament
July 15, 2017
Click image below for details and registration.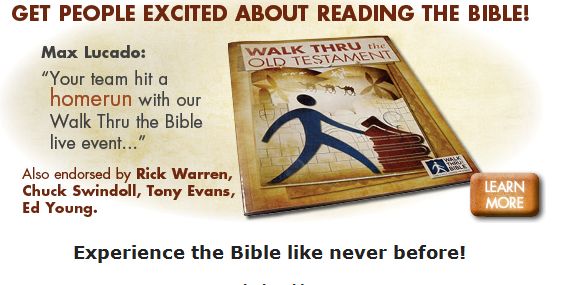 Reach People! – Make Disciples! Go into all the world and make Disciples!
(Matthew 28:19)
*